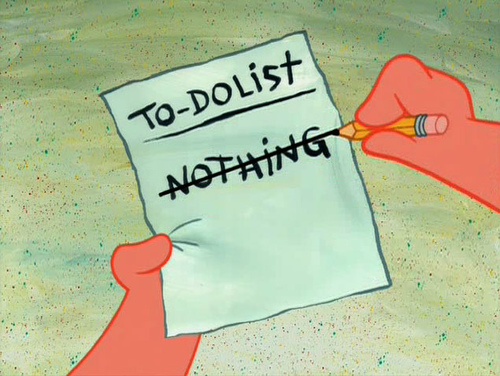 Coming on 2 years ago, my testimony of the Sabbath began to wane.  Our church requires a lot of its members as far as everyone taking a piece of the pie in responsibility so that our members are all nurtured by the good word of God.
Besides Saturday's endless chores and juggling that with trying to get in three meals for the children and take care of them besides, often there were responsibilities for church that needed to be taken care of.  Even without those it seemed impossible to get the whole 'TO DO' list done on Saturdays.
I began to be very resentful of the Sabbath and all that it required of me as well as how the rest of the world had 2 days to get that TO DO list done.  I was jealous of people I knew that had thrown the Sabbath to the wind.  I don't know if I was about to myself, but mentally I began to and that made what I needed to do and to sacrifice that much harder.
I think I may have told the Lord what a bother the Sabbath was becoming, or maybe He just reached out to me as a grace.  But I remember, Irene taught the lesson.  And she wasn't too exciting of a teacher, did a lot of looking down and reading, but she read this quote.  Now don't get me wrong, Irene is something special.  First of all, and foremost, she has my sister's name, and Irene was in my life the first year I arrived in MN, homesick for Eirene with an E.  Irene lights up like a firefly when she sees me and also usually has a little hugging party and practically a dance with it all.  I told her I LOVED the quote she read and that it was just  for me, and she even gave me the quote cut out on a little piece of paper, which I copied in my scripture journal.
"The Sabbath is a day on which to take inventory-to analyze our weaknesses, to confess our sins to our associates and our Lord.  It is a day on which to read good books, a day to contemplate and ponder, a day to study lessons for priesthood and auxiliary organizations, a day to study the scriptures and to prepare lessons, a day to nap and rest and relax, a day to visit the sick, a day to preach the gospel, a day to proselyte, a day to visit quietly with the family and get acquainted with our children, a day for proper courting, a day to do good, a day to drink at the fountain of knowledge and of instruction, a day to seek forgiveness of our sins, a day for the enrichment of our spirit and our soul, a day to restore us to our spiritual stature, a day to partake of the emblems of his sacrifice and atonement [the sacrament] a day to contemplate the glories of the gospel and of the eternal realms, a day to climb high on the upward path toward our Heavenly Father" ( Kimball, Teachings of Spencer W. Kimball pg 215-216,) former latter day saint prophet
I grabbed my little scripture journal on my run this morning and so happened to open to this page.  I thought back on my Sabbath.  I was so happy of what progress I had made in appreciating this day.  Here's what happened:
I said a little prayer yesterday morning at some point that the spirit would edify me today, as I do so much running around and service that I can be stressed and frazzled rather than uplifted it seems.  My friend even told me how calm I was and I hope I met all my duties well and edified the children, but I think I really did get edified too!
Then, after church, and on monthly fast Sundays, we have been trying to make a tradition of visiting an old folks home, but last week we missed and with tears and complaints from Milly. (Its really been more a holiday thing, Christmas, Easter, Mothers Day) When Milly was told we were going yesterday she rewardingly cheered…how cute! I just loved talking to Dori the fish from "Finding Nemo" /Evelyn.  Its like receiving 20 separate visits from us in one visit for her, but the first time I asked how she was she said 'not feeling too great' and by the last time I asked how she was, she said she was 'feeling great and doing well!'  Praise the Lord, we cheered her up and how sweet she is.  Then Art he told us "Whoa he had an uncle who was a preacher and oh how he could lay it into ya."  "Told ya to repent did he?" I asked, "Oh yeah and something fierce."  Luckily Riley could understand him better than I, he shoots a bow, gets them right in the neck and down they go with one shot.  Drag racer and refurbish-er of cars.  Kitty told me, she doesn't like Art.  Kitty's a little jealous I presume.  We saw one 'impressive' as Riley put it, man sweetly taking care of his invalid wife and he remembered our George by name.  Then we talked to Rosie and Rosie loved Milly's dress.  "Ya'll come back now, here!"  a former Georgia peach. The old folks, they eat the children up especially when all cute in their sunday attire.
Then we had the time to do worthy courtship, Riley and I, behind closed doors, and the children popped pop corn and listened to Bible stories on tape upstairs.  I went upstairs and started to copy a recipe down and fell asleep and besides telling my smelly son to not tackle me a couple times, note I did ignore the smell, I actually got a really great nap in (all in the quote so far!) I made dinner and asked Riley to help me making it more worthy courtship time, and with family dinner the children all enjoyed the meal and during clean up I read to them "The Bronze Bow" which is about a rough-ion in the time of the Savior who meets Him and starts to heal from the pleasing words of God.  I then went to read another book myself and got so tired that I lay on the living room floor where I began my second 'nap', aka bed-time, on the floor, and then retired to my bed on awaking close to midnight and slept the rest of the night on my bed.
And this Monday morning, I do feel raring to go I think, ready for a new week…?
I am thankful for change, and pick me ups, concerning the commandments of the Lord.